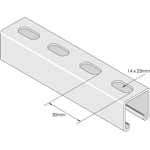 Channel, also know as strut, is extensively used for the hanging and supporting of a wide range of mechanical and electrical installations. Our extensive range of pre galvanised and hot dipped galvanised lengths, brackets and accessories are sourced from reputable suppliers such as Unistrut and Metsec. Kwik Strut Channel Nuts provide quicker installation over traditional channel nuts, both are available ex stock. If you have a large requirement for channel, please contact our customer service team.
Flat roof supports for equipment such as air conditioning and refrigeration equipment to be located safely and securely without damaging the roof.
Traditional screwed rod, also known as studding or threaded rod, couplers and connectors, available as zinc plated steel or stainless steel.
The original wire suspension system, with a variety of products available to meet specific solutions; including Gripple Loop Fast, Stud Fast, Toggle Fast and catenary system. Gripple products are provided as a kit including the wire, Gripple (locks the wire) pre-crimped end fixing and a setting key for adjusting the installation.
Zip Clip offer an alternative wire suspension system, their Rizes, the locking mechanism, are sold separately to the wire, allowing for the lengths required to be cut on site.
Decking wedges and V Nuts to allow drops of threaded rod from all the main decking profiles.
Girder and steelwork clamps from Lindapter including their Type A recessed and Type B flat top clamp.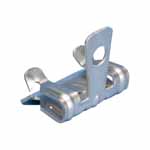 Erico Caddy Clips are a range of spring steel fixings for the suspension of pipe runs and ductwork from steel beams or purlins in indoor, non-corrosive environments. Hammer on beam clamps allow for fast and easy installations.