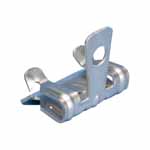 Caddy Hammer on clips are spring steel clips that can be hammered onto steel beams or purlins to provide a quick and secure anchor for the suspension or holding of electrical or mechanical services.
Clips to provide a fixing points to metal purlins and metal decking section.
Clips for hanging services from suspended ceiling T bars and threaded rod.
Erico TSGB adjustable bracket for securing electrical services such as switch and socket boxes between wall studs.